School Chefs Join Vegetarian Cooking
By Taipei News Group (Originally in Chinese)
[Taipei] After having tasted the vegetarian lunch meal provided by Taipei initiates in April, teachers and students of Gueishan Elementary School were looking forward to our next visit. On May 18, Golden Year 4 (2007), initiates went to the school once more with love and sincerity as well as a wide variety of vegetarian ingredients to cook.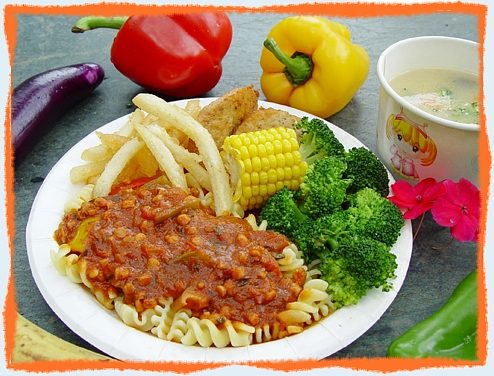 Three of the school chefs earnestly participated to learn vegetarian cuisine preparation, hoping to be able to cook nutritious and healthy vegetarian food in the future. When the colorful and tasty Italian spaghetti set meals were served on the table, all teachers and students enjoyed them with great satisfaction and said, "The lunch is wonderful!" During the meal, the TV program "A Journey through Aesthetic Realms" was played so that everyone could enjoy the spiritual nourishment from Heaven at the same time.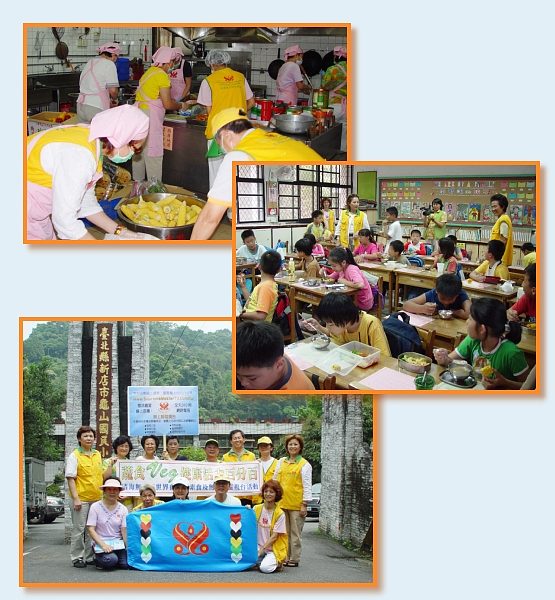 Conveying God's Love through Aiwei Charity Fair
On May 26, Golden Year 4 (2007), Aiwei Sanatorium in Taipei County, and Cardinal Tien Hospital Yung Ho branch jointly organized the Aiwei 8th Anniversary Charity Celebration Fair and invited The Supreme Master Ching Hai International Association to participate. Fellow initiates designed a range of activities which included providing vegetarian meals and drinks, giving out "Alternative Living" flyers and the "Supreme Master Television" message, and having a tea area encouraging the exchange of opinions, and so on.
Tang Sai-Hung, Director of Cardinal Tien hospital Yung Ho Branch, especially stopped by the Association's booth to chat with us. He praised the delicious vegetarian food we provided. At the end of the event, the Association contributed the total earning of the day, more than NT$12,000 (US$360), to Aiwei Sanatorium's long-term care fund, and two big bags of rice.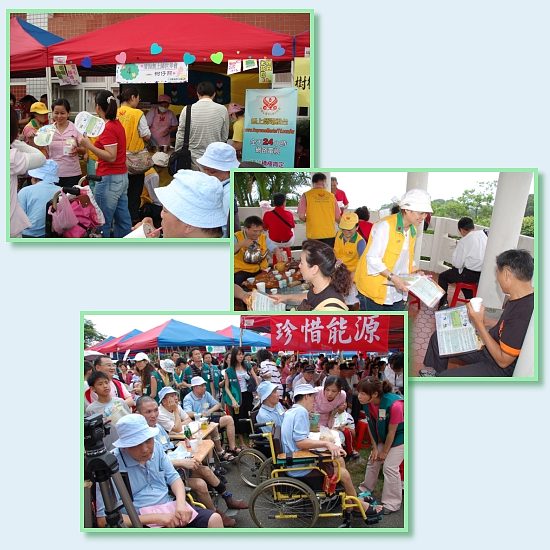 Vegetarian Promotional School Event Earns Hot Responses
On May 25, initiates of Taipei Center visited Fushan Elementary School in Wulai again to hold a vegetarian promotional event and were warmly welcomed by all the teachers and students. Some children said happily, "Yeah! You have come again and we will be filling up our bellies because the food is so delicious!" The school's Secretary Chen said that at one of their meetings all the teaching staff shared the same opinion that having a healthy vegetarian lunch once a month is not enough. They wanted to invite our Association to provide vegetarian meals once a week and to conduct a seminar on healthy vegetarian food for the school's teaching staff.
On May 30, a seminar called "Alternative Living – Back to Natural Health" for the teaching staff was held. John Robbins' book "Diet for a New America" and Master's "Supreme Kitchen" cookbook were offered to the school as well. At the end of the seminar, every participant received two boxes of vegetarian food with joy and happiness.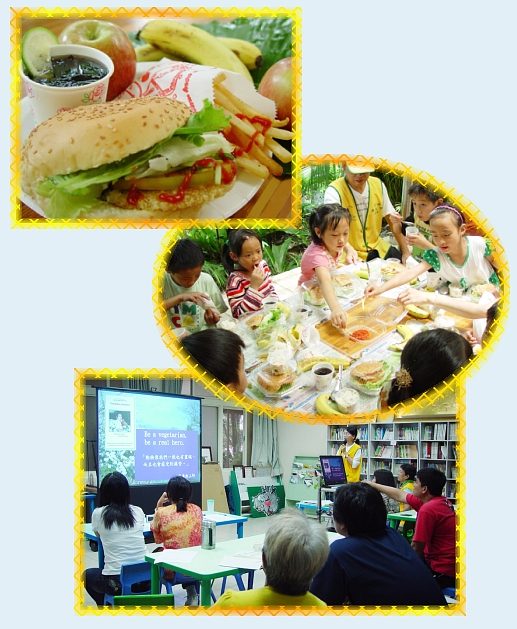 "Loving Animals and Respecting Lives" Promotion at a Kindergarten
By Tainan News Group (Originally in Chinese)
[Tainan] On May 25, Golden Year 4 (2007), initiates of Tainan, Formosa, held an event to promote "Loving Animals and Respecting Lives" at Tzumu Kindergarten in Hsueh-Chia Town, Tainan County. More than a hundred people in the kindergarten, including children, teachers and social workers, participated in the event. Activities included showing the DVD "The Real Heroes," serving delicious vegetarian food, passing out Alternative Living folders and writing pads, providing related medical information, and offering vegetarian cooking DVDs and Master's publications. In addition, we shared with everyone the message of Supreme Master Television.
After lunch, some teachers expressed their surprise that vegetarian food could be rich in nutrition and very delicious. Director Chen Zheng-Lin hoped that chefs at the kindergarten could learn to cook healthy vegetarian food so that a nutritious and loving lunch could be provided to students and teachers. At the end of the event, Director Chen, on behalf of the kindergarten, presented a thank-you certificate and a record of the history of Tzumu Kindergarten to The Supreme Master Ching Hai International Association. He expressed his wish that such a good and healthy concept should be passed on to parents. He hoped to have an opportunity to invite parents to participate next time.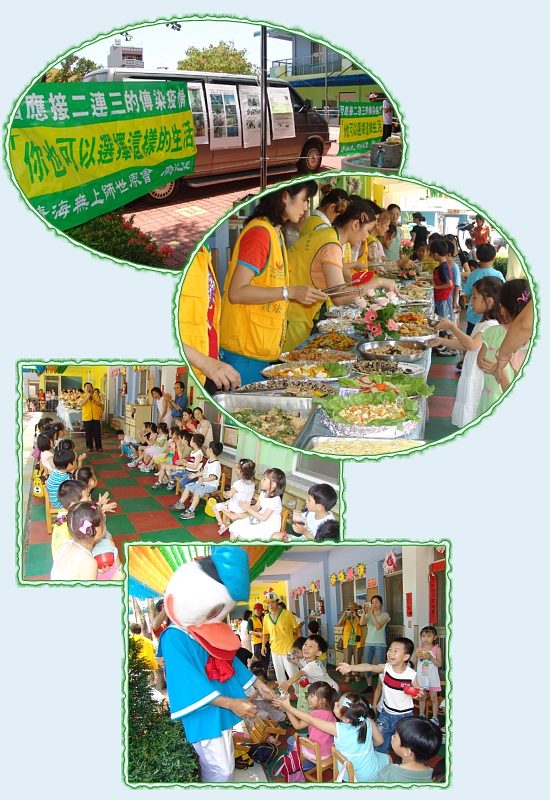 Spring Beach-Cleaning Activities
By Changhua News Group (Originally in Chinese)
[Changhua] On May 26, Golden Year 4 (2007), initiates of Changhua participated in Spring beach-cleaning activities organized by the Hsien-Hsi town government. At the end of the event, initiates gave away various kinds of Supreme Master Television and Alternative Living promotional items as souvenirs to all volunteers who participated. Initiates then followed the motorcade procession that displayed the two messages so that more people can get to know about vegetarianism and the Supreme Master Television.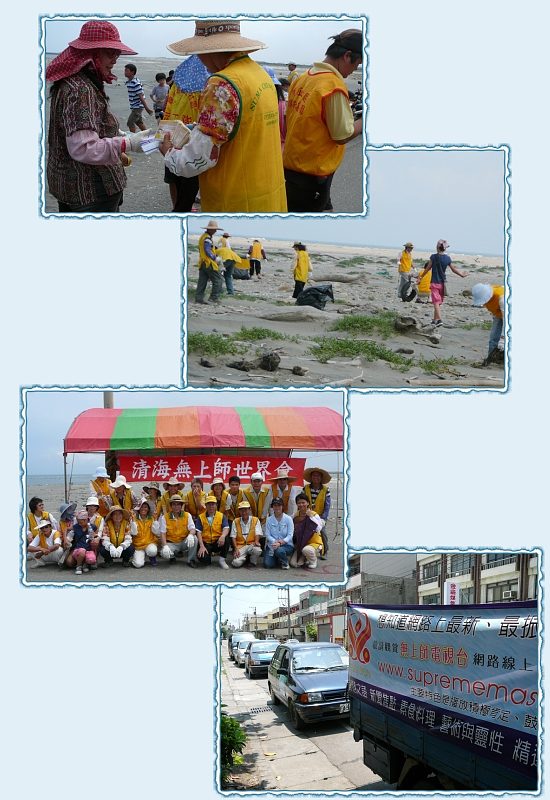 Spreading Good Messages
By Pingtung News Group (Originally in Chinese)
[Pingtung] In May, Golden Year 4 (2007), Laiyi Center in Pingtung County actively shared the message of the Supreme Master Television with the people in neighboring towns, and distributed Master's magazines. Every month fellow initiates have presented the Supreme Master Ching Hai News Magazines to 26 libraries in Pingtung area, to offer the local people more opportunities to get in touch with Master's teachings, and to know about the concepts of environmental protection, vegetarianism, news of science and new technology, love for animals, and the message of the Supreme Master Television.
On May 18, local fellow initiates visited Mr. Dou Wang-Yi, Magistrate of Laiyi Township. Besides sharing friendship, most importantly we introduced the message of the Supreme Master Television, and the concept of environmental protection and vegetarianism. Mr. Dou was overjoyed with our visit and warmly welcomed fellow initiates to come often to interact with villagers and to share these messages that benefit their body, mind and spirit. In addition, Mr. Dou delegated his staff to assist us to put the Supreme Master Television posters on the boards in every community of the township.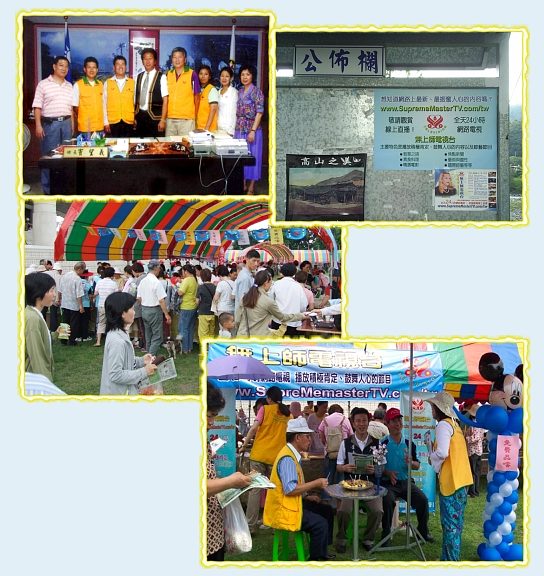 On June 3, Laiyi Center participated in a vegetable and fruit fair held by Pingtung City Government in front of the Pingtung County Stadium. Fellow initiates prepared a lot of  vegetarian food and desserts, using natural vegetables and fruits, and offered them to the visitors free of charge. They also used the opportunity to spread the good message of the Supreme Master Television. The Pingtung City Mayor, Mr. Yeh Shou-Shan, visited our booth. After tasting a vegetarian dessert and watching the Supreme Master Television program, he said: "It is very good today that we have you to convey the beautiful message of the Supreme Master Television. It has boundless merits. The vegetarian food tastes good, and embraces love, health and longevity of life!"

With deep compassion for animals and concerned about repeated outbreaks of epidemic diseases among animals and humans, Master has offered the world a fundamental solution to the problem by personally designing a friendly but convincing leaflet entitled "Alternative Living" to remind people to choose the vegetarian diet and stop killing in order to overcome global medical crises and save our fellow beings. Master has also instructed all initiates to share this message with their brothers and sisters in every corner of the world. In response, the practitioners have initiated an all-out effort to share Her words of love.
To keep pace with the planet's ongoing spiritual elevation, the local centers of The Supreme Master Ching Hai International Association are holding more and more video seminars and other Truth-sharing events.

You are welcome to join in these activities with your friends and relatives. For the latest schedule of our activities, please visit the following URL: http://www.Godsdirectcontact.org.tw/eng/latest_news/events-datebook.htm