Positive Improvements on the Planet
A Year of Peace Has Come
By Ohio News Group (Originally in English)
The past year has seen many positive developments, as countries and people resolve conflicts and work together towards fostering greater peace on our planet. Many countries, some with decades-long histories of war, have recently adopted diplomatic agreements with each other.
| | |
| --- | --- |
| | Everest Peace Project members (left to right) Micha Yaniv (Israel), Ali Bushnaq (Palestine), Dudu Yifrah (Israel) work to spread a message of peace throughout the world by bringing people from different faiths together, especially Israelis and Palestinians. |
On November 26, Golden Year 3 (2006), a cease-fire agreement was established between Israel and Palestine. More recently, a two-day conference held in Petra, Jordan, attended by Nobel laureates and Israeli and Arab youth, focused on ways to bring about peace in the Middle East.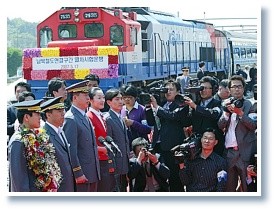 The trans-Korea trains symbolize the reconnection of the previously severed ties of the Korean people.
The relationship between North and South Korea is also quickly improving. On May 17, Golden Year 4 (2007), trains carrying passengers from both Koreas started in both the south and the north, then traveled to arrive at destinations in North Korea and South Korea, respectively. These trans-Korea trains are the first to run in 56 years.
| | |
| --- | --- |
| Hundreds of Palestinians holding Fatah yellow flags and Hamas green flags took to the streets of Gaza to demand peace from the government a day after the truce went into effect. | |
Numerous peaceful advancements have also taken place within countries' own civil boundaries. Palestine's governmental parties Fatah and Hamas formed a new unity government in March with diplomatic assistance from Saudi Arabia, and a new ceasefire went into effect on Wednesday, May 16, in Gaza City.
In April Golden Year 4 (2007), Afghanistan, a country subjected to decades of internal strife, is now joining together by founding a multi-ethnic political party, the United National Front. This new party vows to implement democratic means to end the country's conflicts.
| | |
| --- | --- |
| Ugandans march for peace to support the December 2006 peace talks. | |
In Uganda, separatist groups have chosen negotiation over war as they reaffirmed their commitment to peace and have agreed to sit down with a number of African countries that will aid in achieving unification goals. Leaders of Sudan, Chad, and the Central African Republic signed an agreement that renews a unified pledge to bring peace to their countries. Within the Central African Republic, a peace deal was signed by one of the main opposition groups in February. Also in February, one of the largest factions in Darfur, Sudan, agreed to a ceasefire and said that they are ready to resume peace talks with the government.
| | |
| --- | --- |
| | Sudanese government delegation members inside the venue of peace talks in Abuja, Nigeria |
| | The leader of Darfur's Sudan Liberation Army who signed the Darfur Peace Agreement, is sworn into office in Khartoum, Sudan. |
India and Pakistan are now working harmoniously to create a better environment for the citizens of Kashmir, a country that they each historically have made claim to. Also of great importance is a nuclear pact signed by these two countries that shields the region of Kashmir from any accidental nuclear event.
| | |
| --- | --- |
| | Pakistani Foreign Minister Khursheed Kasuri (front left), and his Indian counterpart Pranab Mukherjee (front right) meet in New Delhi to continue peace talks. |
In November Golden Year 3 (2006), Nepal's Home Minister and chief Maoist negotiator signed a Comprehensive Peace Agreement for disarmament, thereby immediately allowing former insurgents to become a part of a joint transitional government. Both parties have agreed to adhere to the terms outlined in the agreement.
| | |
| --- | --- |
| | Youths in Bara District, Nepal, read a newspaper with the banner headline: "Armed Conflict Ends" |
The Philippines government met with the Moro Islamic Liberation Front (MILF) and offered to recognize the right of the Moros to self-governance. This peace-seeking agreement could end one of the world's longest-running civil conflicts.
In the province of Aceh, a territory of Indonesia, previously opposing parties came together after the massive 2004 Indian Ocean earthquake. In December Golden Year 3 (2006), inhabitants rejoiced in their participation in the first direct elections, representing the culmination of a two-year peace negotiation process. In the Ivory Coast, four militia groups have committed to disarmament by the 19th of May, to show the national and international community that they are committed to peace.
Besides these heartening stories, similar steps toward peace are being made in many other locations too numerous to mention. With the tremendous blessings from God, more and more leaders in the world are awakening to the importance of peace and are working together for a bright and beautiful future on this Earth.