Love in Action
Korea
Bringing Love and Light
to Andong Prison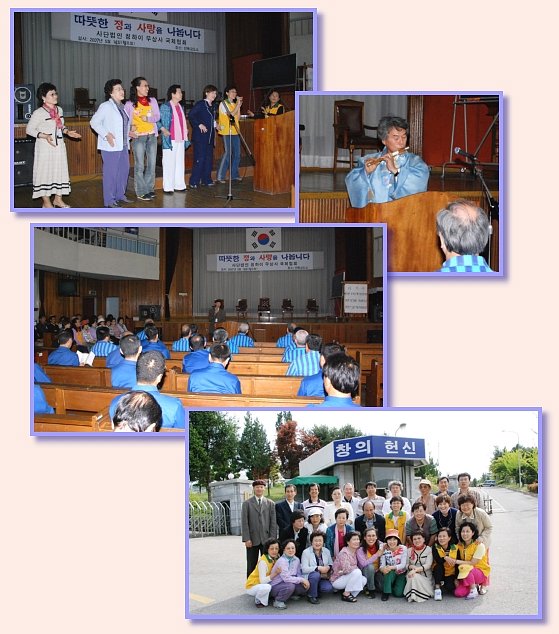 By Korea News Group (Originally in Korean)
The Supreme Master Ching Hai International Association members from all Centers in Korea regularly visit prisons to provide love and comfort to the prisoners. Many inmates regain hope and inner peace, and even enlightenment, through the teachings of Supreme Master Ching Hai.
On May 14, Golden Year 4 (2007), Association members visited Andong Prison to hold a "Share Warm Heart and Love" event. They brought with them delicious vegetarian food, fruit and gift packages containing underwear, candies, etc. for the inmates, including the old or sick and those who already practice Convenient Method.
The activities for prisoners included teaching yoga, playing musical instruments, singing and dancing together, etc. There was also an introduction to the benefits of practicing Quan Yin Method and a vegetarian diet. A Convenient Method practicing prisoner shared his experiences with fellow inmates of gaining peace of mind by practicing meditation. Prisoners also very much enjoyed the delicious and nutritious vegetarian meals, and appreciated the love from Master Ching Hai. The day's event was reported by Yonhap News, which has both internet and TV news channels, and provides news to all other newspapers and television stations.
Through continuous and devoted efforts of Association members, the number of Convenient Method practicing prisoners in Andong, Cheongsong, Daegu, Chungju, and Pohang has increased.

Yonhap News, Korea, May 14, 2007 (Originally in Korean)

Yonhap News reports that Andong Prison held a very meaningful educational event to teach filial piety and extend love to old and sick prisoners on May 14 (Monday), with the presence of the Quan Yin Method Prison Spreading Team. It also reports good feedback from the prisoners and the intention of the Chief of Andong Prison (Mr. Han Jae-Jun) to arrange more such enlightening events in the future.