Beautiful People and Beautiful Events
By Seoul News Group (Originally in Korean)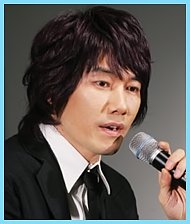 A recent television interview with famous Korean singer, Jang Hoon Kim, revealed for the first time the extent of Mr. Kim's philanthropic deeds. He has been contributing 99% of what he has earned, which comes to a total of US $3,061,220 in the last 9 years. The forty-year-old singer, nicknamed the "Charity King," has said: "If I have any desire for possession, it is to share with others." "The money that I contribute is not really from me, it's really my fans who contribute…... I am just a 'bank via human' as we see 'bank via telephone' or 'bank via internet' these days."
Since he himself had experienced a difficult time as a teenager both emotionally and economically, he has given tremendous love and attention to teenagers who run away from home or are starved. Since last July, he has run buses named "Ggumirumi" (Dream Accomplisher) with his mother in order to counsel run-away teenagers. Inside the buses, there are simple beds, a counseling desk and chair, and a refrigerator so that run-aways can come by and take a rest. In addition, there are curtains covering the windows so that the inside of the buses have some privacy.
Jang Hoon Kim lives in a rented apartment, does not have a credit card, and sometimes finds that his bank account balance is '$0.' It is because as soon as he has any income, it is used to help others. Though somewhat worried about his own future since the life-span of a singer can be quite short, he said
The "Charity King" ♥♥♥♥♥♥♥
- A Korean Rocker Contributes 99% of Earning
that he would start any business on the street in case he had to retire from his career as a singer at anytime, because his happiness does not rely on money.