Reports according to Master's order and rating
Arnold Schwarzenegger
- The Green Governor
♥♥♥♥♥♥
By USA News Group (Originally in English)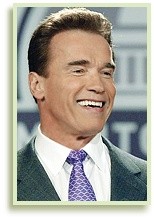 Before being elected governor of California in 2003, Arnold Schwarzenegger was a famous bodybuilder, winning the title of Mr. Universe five times and Mr. Olympia seven times. He was also the most highly paid action movie star in Hollywood and a very successful businessman.
After taking office, Arnold announced a bold action plan for improving the state's air, water, landscape and climate. This plan included the creation of the 25 million-acre Sierra Nevada Conservancy, California's largest ever, to protect and improve water and air quality as well as historical, cultural, and natural resources, and to reduce the risk of natural disasters such as wildfire. Governor Schwarzenegger also established thousands of acres of ocean parks.
In September Golden Year 3 (2006), the governor signed legislation for the Global Warming Solutions Act, to cut the state's greenhouse-gas emissions 25 percent by 2020. This is the most aggressive greenhouse gas reduction policy in the world and makes California the first state in the country to require lower greenhouse gas emissions. He also approved legislation for the state government to reduce its energy use by 20% and allocate $3.2 billion to subsidize solar panel installation in homes and small businesses.
In January Golden Year 4 (2007), he also signed an Executive Order establishing the world's first greenhouse gas standard for transportation fuels. This standard will reduce the carbon output of California's passenger vehicle fuels by at least 10 percent by 2020. As it supports the Global Warming Solutions Act emission targets, this standard becomes part of California's overall strategy to fight global warming. It also benefits the economy by giving a boost to the clean technology industry in California, including hydrogen fuel development.
Governor Schwarzenegger lives the green values he speaks of; he has retooled one of his vehicles to run on hydrogen and another to use biofuel. He is also installing solar panels in his own home.
Many people are surprised that a Republican governor has taken such an assertive stance on global warming. However, according to global warming advisor, Terry Tamminen, Governor Schwarzenegger grew up in post-war Austria at a time when its cities were still largely in ruins and filled with pollution. After coming to California, he saw trash on the beaches, and he felt the effects of air pollution in his lungs and his eyes. So he always wanted to improve the environment.
Schwarzenegger says, "I'm an optimist. I don't look at this as if the world is coming to an end. I see it as a great opportunity to clean up our mess. We're grownups; we aren't children, and we can do it. That's why we like to be out front in California."
In May 2007, he was named by Time magazine as one of the 100 most influential people who help shape the world.

References:
http://www.time.com/time/specials/2007/time100/article/0,28804,1595326_1615513_1615451,00.html http://www.cnn.com/2007/POLITICS/04/12/arnold.green/index.html http://money.cnn.com/magazines/fortune/fortune_archive/2007/04/02/8403410/index.htm http://www.madison.com/archives/read.php?ref=/tct/2007/05/07/0705070308.php
http://gov.ca.gov/index.php?/press-release/5074/