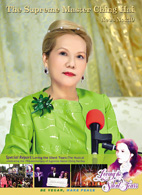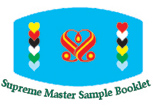 Spiritual Songs









Announcement: Golden Age News



We have a new, modern website to appeal to a broader audience, to save paper, and to make it easier for our readers to share uplifting articles with more people. You can read the magazine online, via your smart phone or tablet. For those who feel most comfortable with the older PDF version, it will still be available to download and print at our new website.
Turkey Pardon at the White House
Joined by his daughters Sasha and Malia, President Obama announced, "They say that life is all about second chances. And this November, I could not agree more. So in the spirit of the season, I have one more gift to give, and it goes to a pair of turkeys named Cobbler and Gobbler. The American people have spoken, and these birds are moving forward." ...
A Guiding Light for the New Era
A New Messiah Heralds Peace and Prosperity
In his famous quatrain collection Les Propheties (The Prophecies), 16th-century French clairvoyant Michel De Nostredame foretold the occurrence of numerous major world events. Experts studying the poems say that Nostradamus predicted the Great Fire of London, the French Revolution, World War II, and the September 11, 2001, tragedy in the United States...
Supreme Master Ching Hai's Message
for "Loving the Silent Tears" Musical Concert
That good news is our planet will still be blessed to exist for 10,000 years more to come and will continue, depending on our goodness in the future. And for that, praised be God. Thanks to all co-inhabitants' loving prayers and contributions in different aspects. As for my humble self, I also continue the best to support our common united endeavor to save this planet for this generation and countless next...
Letter for government leaders and media
The continuation of our precious planet has been extended for another half century and counting...
- Supreme Master Ching Hai -


Daily Aphorism
The Supreme Master Ching Hai

This award was founded in March 2006 by Supreme Master Ching Hai. It is to honor the distinguished people, countries and organizations in our present day society that have made a positive difference on our planet through their noble actions....


Loving Hut advocates healthy life style and vegan foods and at the same time strives to fight for their cause to protect the planet from global warming. Loving Hut is currently the fastest growing international vegan fast food chain in the world. For more details, please visit www.lovinghut.com


The author is a 17-year-old student in her final year of secondary school. The article was an internal assessment for which she was awarded the top grade of excellence. It is available in 30 languages...


The Quan Yin Method Online Video Lecture by Supreme Master Ching Hai...


DVDs, CDs, MP3, Books, etc...


Paintings, Lamps, Fans, Jewelry, Apparel, Music, etc...


A non-stop project for saving more animal friends…...


Vegetarian recipes, restaurants, famous vegetarian...


Enlightened Government creating a bright future...


The official online store for Celestial products...


Celestial clothes and sleeping mattresses for dogs...


These are the shocking video clips about the animal cruelty...